Event Dates:
Wednesday, November 23, 2022 -

09:00

to

17:00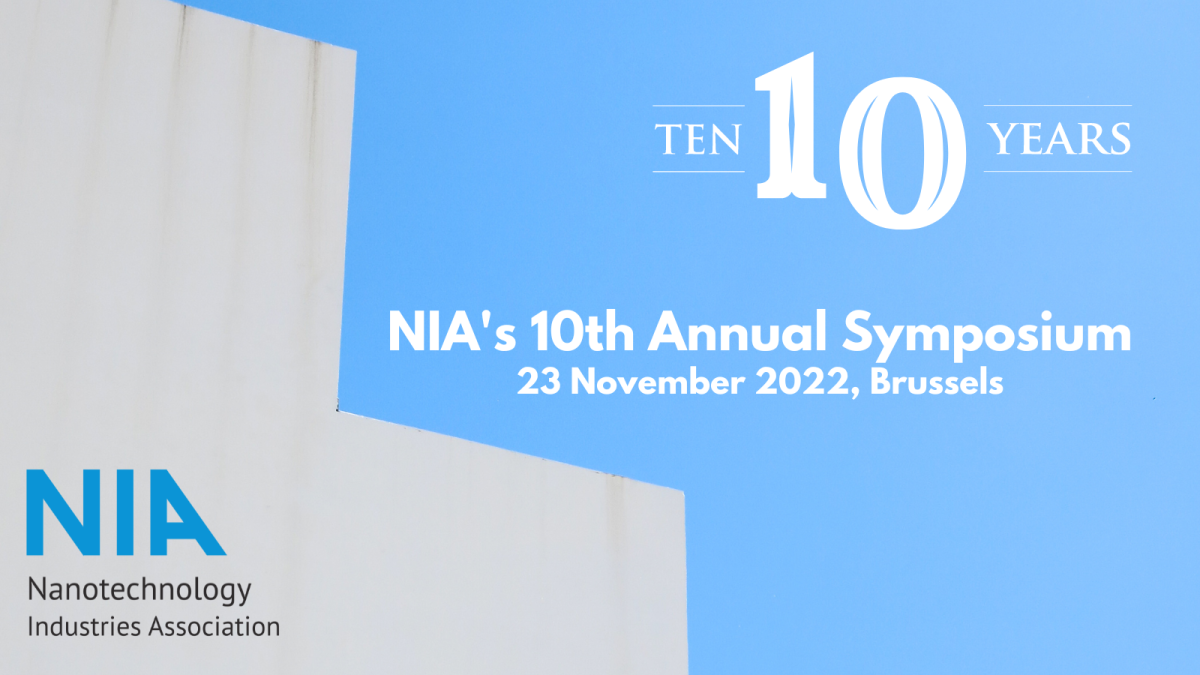 NIA's Annual Symposium is back as a face-to-face for its 10th edition.  The event will be held in Brussels on 23 November 2022. Join us to discuss the interplay between nanotechnology developments and the ambitious EU policy goals for the chemicals sector: how nano applications will enable other sectors to achieve their innovation and sustainability objectives; how the Chemical Strategy for Sustainability translates into regulatory and policy actions affecting nanomaterials, and what needs to be done to achieve industry preparedness; and how policymakers and stakeholders can better support these efforts.
Who can attend?
This event is free of charge and open to all interested stakeholders.
Agenda
(please note that additions and changes are still possible as new speakers are confirmed)
9.00-9.30      Registration 
9.30-11.00    Session 1 – Implementing the Chemicals Strategy for Sustainability
This session will set the scene with an overview of the current and upcoming topics of relevance for nanomaterials, and what implications will they have for businesses
Speakers: 
Andrej Kobe, Policy Officer, DG Environment, European Commission
Erik Bleeker, Risk Evaluator, Dutch Institute for Public Health and the Environment (RIVM)
11.00-11.30 Coffee break
11.30-13.00 Session 2 – Sustainability: goals and challenges
This session will look at the sustainability discourse for the chemicals industry, both in terms of companies' efforts and in terms of what solutions nanomaterials offer to other industries, enabling them to become more sustainable
Speakers:
Javier Sanfelix, Policy Officer, DG Research and Innovation, European Commission
Ignacio Herráez Chamorro, Sales Manager, NanoGAP 
13.00-14.00 Lunch break
14.00-15.30 Session 3 – Innovation, growth, sustainability: how do we make it happen?
This session will bring the economic dimension of sustainability into focus, discussing how to ensure that industry competitiveness and innovation are kept in mind 
Speakers:
Landon Mertz, CEO, Cerion Nanomaterials
15.30-16.00 Wrap-up and conclusion
16.00-17.00 Reception