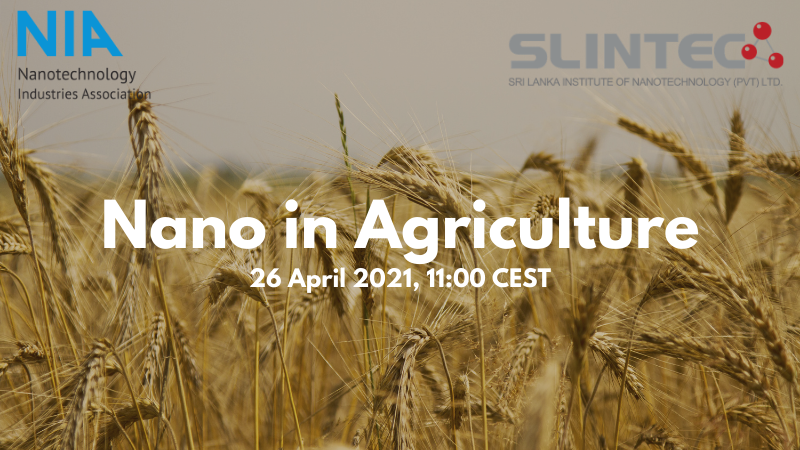 Event Dates:
Monday, April 26, 2021 -

11:00

to

12:30
Nanotechnology has shown potential in introducing new innovations into agriculture from nanofertilizers and nanopesticides, through to the use of sensors for crop monitoring and nanofilters for cleaning agricultural wastewater. Similarly, the use of nanomaterials in foods is also an area that has shown promise, with many research projects focussing on how to make use of nano in food ingredients and also in the production of foodstuffs, such as using nano sensors. This webinar will present a snapshot of some of these topics and show some of the work being undertaken in this field.
NIA member the Sri Lanka Institute of Nanotechnology Ltd. (SLINTEC) will present some of its latest research on the application of nanotechnology in agriculture. Nanoprogress, a Czech- based cluster, will showcase some of the work it has done as part of the VIDA project using nanofibres for water filters. Like many other sectors, there are also regulatory issues that have to be taken into account when bringing new nano products into the agricultural sector and the NIA will present a brief overview of these.
Agenda
Dr. Chaturika Surani, Senior Scientist, SLINTEC, 'Nanotechnology: An Emerging tool in food industry'
Dr Lucie Vysloužilová, International Project Manager, Nanoprogress, 'Nanotechnological application for agriculture and healthier environment'
Mr. Ruchira Wijesena, Senior Scientist, SLINTEC, 'Nanotechnology applications in fertilizers and soil management'
Dr Blanca Suarez Merino, Regulatory Affairs Director, NIA, 'Regulatory Insights about Nanomaterials in Agriculture'