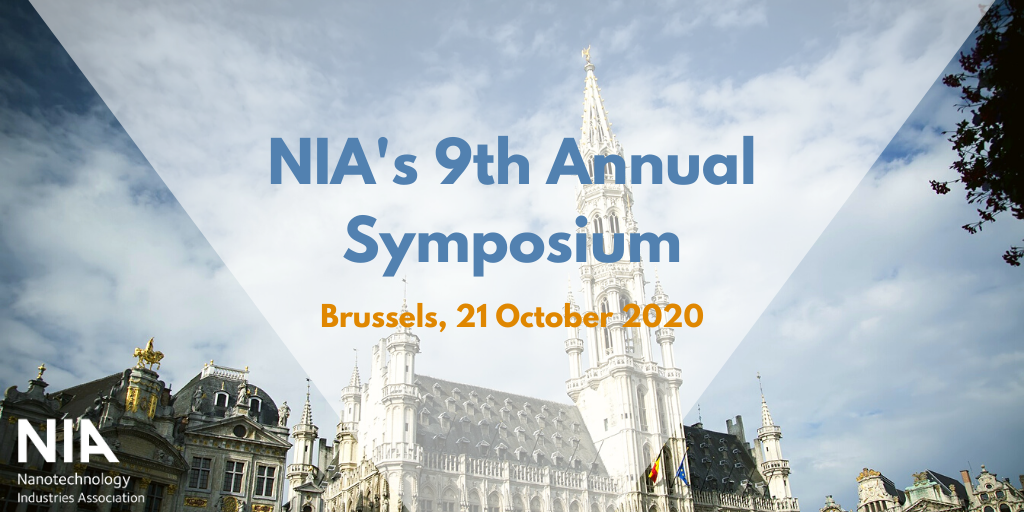 NIA Annual Symposium
Brussels
21 October 2020
Join NIA in Brussels for our 9th Annual Symposium.  The Symposium brings Members and our wider community together to discuss key drivers behind commercial development of nanotechnologies, advanced materials and network across sectors and countries for the development of your business and research.
Agenda
9:00 Registration and coffee
9:45 Welcome
10:00 Advancing Nano – What does the EU future hold?
Nano in Policy and Advanced Materials - Claire Skentelbery, DG Nanotechnology Industries Association
What's over the horizon for nano?  -  Jana Drbohlavova, Project Officer Nanotechnologies, European Commission
Advancing methods for nano characterisation and assessment - Hubert Rauscher, Principal Administrator and Scientific Officer, Joint Research Centre (JRC)
10:55 Market access frameworks – The business and science of nanoforms
Implementing REACH Annex amendments - The industrial experience - Neil Hunt, Senior Regulatory Specialist, Yordas Group
Framework for grouping nanomaterials for risk assessment, including  read-across – The GRACIOUS project  - Professor Vicki Stone, Director of the Institute of Biological Chemistry, Biophysics and Bioengineering Heriot-Watt University
The ECETOC NanoApp to support justification of NanoForm (NF) sets - Olivier De Matos, Secretary General, ECETOC & Wendel Wohlleben, Senior Principle Scientist, BASF
Project corner introduction
12:00 Lunch
13:30 Communicating Nano
The biotech lesson - learning from a path well worn - Joanna Dupont, Director General EuropaBio
Drivers for SME communication and marketing in nanomaterials - Selina Ambrose, Technical Manager Promethean Particles
Getting it right - effective communications for short and long term - Jo Stephenson, CEO PhD Marketing
14:30 Dual Use Nanomaterials
Snapshot of the European Defence Fund - Claire Skentelbery, DG Nanotechnology Industries Association
Defence projects in the US - Industrially developed nanomaterials for military applications - Landon Mertz, CEO, Cerion
Tailor-made blast, ballistic and CBRN protection of military personnel  - VESTLIFE. EDA funding in action - José Gisbert, Textile Industrial Engineer, AITEX and project coordinator VESTLIFE
Dual Use Materials – Addressing dual-use issues in enabling technologies research and a guide to industrial development - Christian Hartmann, Senior Researcher, Joanneum Research
16:00 Networking and drinks reception
17:00 Close
Project corner
After the successful launch of 'projects corner' in 2019, NIA is pleased to welcome it back in 2020. National and EU projects from Members can bring a banner and project materials to share across the meeting.
Registration
Who should attend?
All people active within nanotechnology and nanomaterials are welcome to attend, from research or industry – the NIA community supports all aspects of materials development, from early stage research through to international products and processes.
Fees
NIA Members: Free of charge (including 'project corner')
Non-Members: €150 & TVA