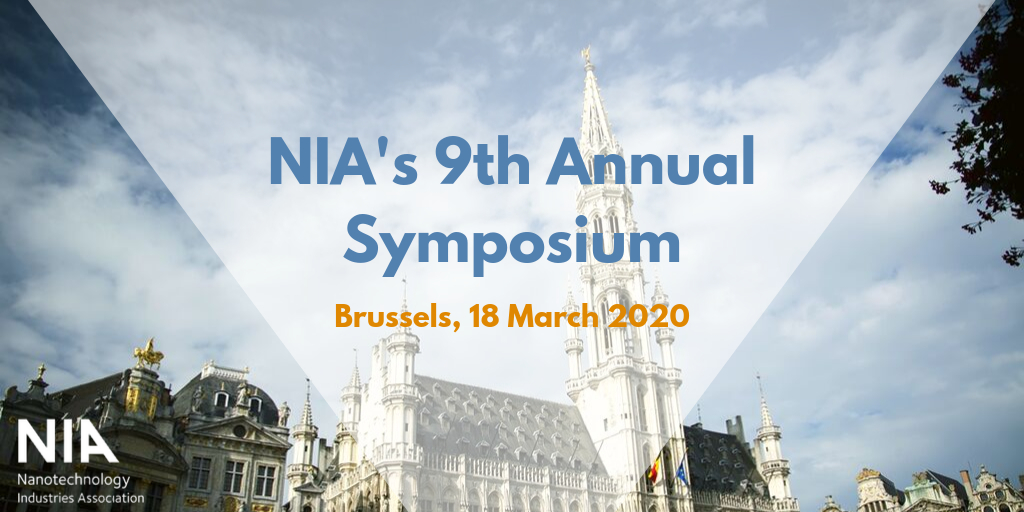 Event Dates:
Wednesday, March 18, 2020 -

09:00

to

17:30
Join NIA in Brussels for our 9th Annual Symposium.  The Symposium brings Members and our wider community together to discuss key drivers behind commercial development of nanotechnologies, advanced materials and network across sectors and countries for the development of your business and research.
Session 1: Advancing Nano – what does the EU future hold?
2020 marks the first year of a new European legislative cycle and the launch of Horizon Europe, the research framework replacing Horizon 2020. With sustainability, industrial strategy and European defence as political priorities, where does nanotechnology fit? Join this session to explore the evolution towards advanced materials and how nano can play a role across EU priorities.
Session 2: Market access frameworks – regulation and standards for Nano
NIA's mission is to support the commercial development of materials to market.  Core to this are the regulatory frameworks for market access and standards that enable reliable and recognised data. This session focuses on latest developments world-wide that enable commercial nanotechnology and materials.
Session 3: Communicating Nano
Nanomaterials are perceived differently across sectors and, while they are present in most products and processes, they are not promoted as part of the solution. This session looks at how we can responsibly promote the use and benefits of nanomaterials, taking the lead in communications, rather than retroactively, taking a defensive position after materials hit the headlines.
Session 4: Nanomaterials in Dual Use
As the EU develops a defence research strategy, it follows in the footsteps of economies such as the US in targeting public funds towards defence technologies. Nanomaterials are a key enabler across materials, diagnostics, sensors and many other defence applications and this session looks at the scientific and business drivers behind civilian and defence development pathways, plus EU objectives in the new legislative and framework cycle.
Project corner
After the successful launch of 'projects corner' in 2019, NIA is pleased to welcome it back in 2020. National and EU projects from Members can bring a banner and project materials to share across the meeting. After 20+ projects in 2019, let's reach 30 in 2020!
Registration
Who should attend?
All people active within nanotechnology and nanomaterials are welcome to attend, from research or industry – the NIA community supports all aspects of materials development, from early stage research through to international products and processes.
Fees
NIA Members: Free of charge (including 'project corner')
Non-Members: €150 & TVA