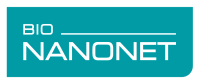 The BioNanoNet Forschungsgesellschaft mbH (BioNanoNet) is an Austrian network that specializes in the key enabling technologies nanotechnology and biotechnology on a national and international basis, with the emphasis on: (1) nanotoxicology, (2) sensortechnology, (3) health and safety including (nano)medicine, and additionally offers (4) coordination, management, dissemination and communication services.
BioNanoNet coordinates the European nanotoxicology centre which supports the development of human technology through nanotechnology for scientific and economic success.
Furthermore, BioNanoNet publishes the online journal EURO-NanoTox-LETTERS (ENTL) with a focus on nanotoxicology and nanomedicine. ENTL aims to increase the knowledge of nanoparticle interactions in the physiological context.