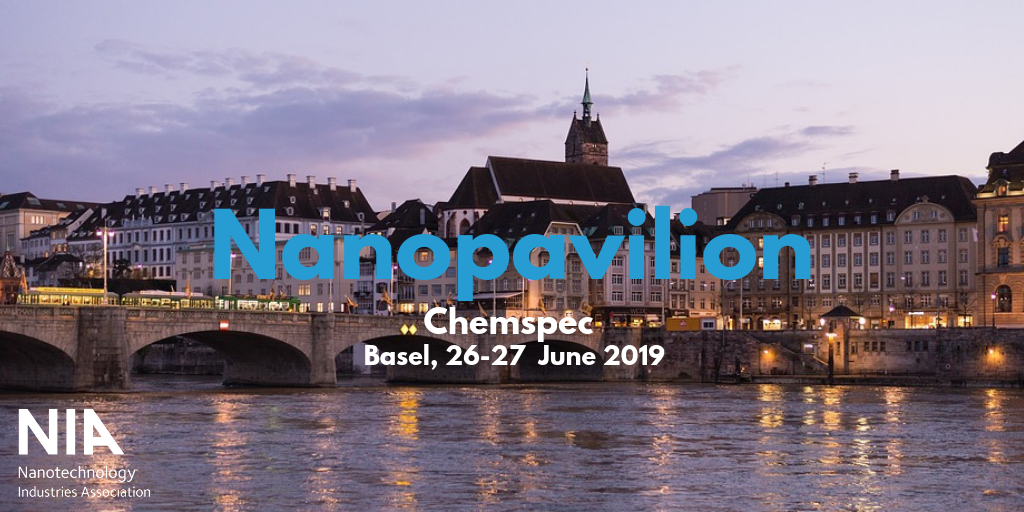 Event Dates:
Wednesday, June 26, 2019 - 09:00

to

Thursday, June 27, 2019 - 18:00
NIA's Nanopavilion at Chemspec Europe 2019
NIA is delighted to launch the Nanopavilion,  showcasing Members and nanotechnology at important industrial meetings around Europe.
The Nanopavilion is a dedicated stand over 40m², with dedicated booths for NIA Members, creating a focal point for nano within large scale conferences and enabling NIA members of all sizes to gain maximum exposure.
Chemspec Europe, June 26-27 in Basel welcomes our 2019 Nanopavilion.  Chemspec is an international exhibition for fine and speciality chemicals, this year in the heart of pharma and chemicals production territory in Switzerland.  In 2018 it welcomed over 6700 delegates and 358 exhibitors in Frankfurt.  The Nanopavilion will be the focal point for nanotechnology activities at the trade show, with NIA Members from Europe, the US and Canada flying the flag, through the pavilion directly and through presentations through the event. Come meet us at stand  B316 and discover our Nanopavilion agenda HERE.
Meet the Nanopavilion participants
CelluForce
CelluForce is the world leader in the commercial production of CelluForce NCCTM  a form of Cellulose NanoCrystals (CNC). Produced from the cellulose in trees, CNC is abundant, renewable and biodegradable. WEBSITE
Cerion
Established in 2007, Cerion is a global leader in the design, scaling and industrial manufacturing of performance inorganic nanomaterials. WEBSITE
Chemycal
Chemycal is a pioneering company that uses machine learning technologies and regulatory expertise to monitor chemical regulatory systems around the world and deliver global news and alerts specific to substances and products. WEBSITE
Edelweiss Connect
Edelweiss Connect (formerly Douglas Connect) manages collaborative projects to achieve goals in scientific research, infrastructure development or service provision. WEBSITE
Mathym
  Mathym is a nanotechnology company that specializes in the development and manufacturing of innovative and unique nano-dispersions, with nanoparticles including Zirconium dioxide and Ytterbium trifluoride. WEBSITE
TEMAS
TEMAS AG is a management consultancy which has continuously networked for the past 23 years, with more than 12,000 network points, scientists, engineers, laboratories, universities, specialist firms, cooperation partners and specialist lists. WEBSITE
VITO
VITO is a leading European independent research and technology organisation in the areas of cleantech and sustainable development, elaborating solutions for the large societal challenges of today. WEBSITE
Yordas Group
Yordas Group (formerly The REACH Centre) is a leading provider of scientific, environmental, human health, and global regulatory consulting services.  WEBSITE
We look forward to seeing you in Switzerland!